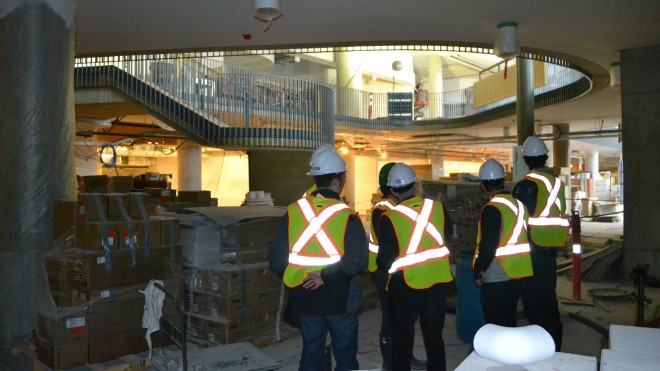 Is your phone running out of juice? Need a spot to sit and plug in your laptop? This seems to be a recurring problem for students around the campus. For the sustainability minded student, using increasingly more electrical energy can also weigh heavily on the mind. But don't worry, we're on it. The new Student Union Building will open with a solution to your energy woes.
Located at the Club Resource and Sustainability Centre in the new building, will be a special table designed and custom built by a dedicated team of UBC Mechanical Engineering students. The table will offer an array of plug sockets and cables for all of those electronic devices. The energy, well, that will be supplied by you. By sitting at the table, and pedaling as if you were on a bike, you will be producing all the renewable energy that your devices can consume.
Our team visited the new building today to finalize their dimensions and check out the final resting spot for their project.